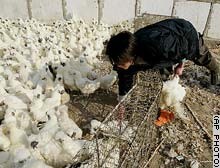 warning network of epidemic will prevent the spread of flu type to human (Photo: AP)
Viet Nam will build an epidemic alarm network from central to grassroots levels in order to discover diseases that may develop into epidemics in the community, said a senior health official.

Dr. Nguyen Van Binh, Vice Director of the Ministry's Preventive Health Care Department, said the Health Ministry was accelerating its work to prevent flu type A (H5N1) in humans.
According to Binh, a network for epidemic control will be developed covering central to communal levels. Finance will be provided by foreign governments and organisations to assist Viet Nam prevent the spread of flu type A to human.
The Ministry has been providing documents to guide local authorities in giving early warning of epidemics and in controlling any outbreaks.
The Ministry has also been coordinating with the World Health Organisation (WHO) in purchasing equipment for institutes in charge of hygiene and epidemiology in provinces and cities, collecting data and making reports of vaccination campaigns.
According to the National Steering Board for Severe Acute Respiratory Syndrome (SARS), Viet Nam has detected no new outbreaks of bird flu over the past eight months and no new H5N1 cases over the past nine months.
However, the Health Ministry warned that the situation regarding bird flu in the world was still complex and that Viet Nam should continue tightening its prevention measures, especially at its borders.
According to the WHO, since December 2003, there have been 229 H5N1 cases in the world, of which 131 have resulted in fatalities in 10 countries
(Source: VNA)