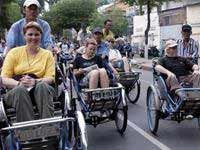 More foreigners will visit Viet Nam to enjoy its diversified toursim services.
Viet Nam set the target of attracting around 5.5-6 million international arrivals, earning a total revenue of 4-5 billion USD by 2010, up twofold over 2005, announced the Vietnam National Administration of Tourism (VNAT) in the national action plan on tourism in 2006-2010.
The VNAT also estimated that international visitors to Viet Nam will increase by 10-20% annually. Besides, the number of local tourists will also rise by 15-20% annually, reaching 25 million by 2010.

By setting these targets, the tourism sector hopes to turn Viet Nam into a developed tourism country in the region, and an attractive destination for many international tourists.
In the past five years (2000-2005), Viet Nam launched the national action plan on tourism, which helped the country attract a great number of foreign visitors as well as increase the number of local tourists, turning Viet Nam into an attractive, peaceful and friendly destination. Viet Nam's efforts to boost its tourism image have contributed effectively to increasing its market share in major tourism markets like Japan, the Republic of Korea, the US, France, Australia, Sweden.
As shown in an analysis of the VNAT, Viet Nam welcomed over 1.3 million tourists in the first four months of this year, mostly from the Republic of Korea, Japan, France, Thailand and Malaysia.
In April, some festivals including the Memorial Day of Hung King and Ba Ria-Vung Tau Sea Festival attracted hundred thousands of international and local tourists.