After a successful tie-up with Ho Chi Minh City Tourism Association (HTA) to offer discount fares to holidaymakers via travel agencies in the City, VietJet Air has struck another similar deal with Vietnam Tourism Association (VISTA) on July 5.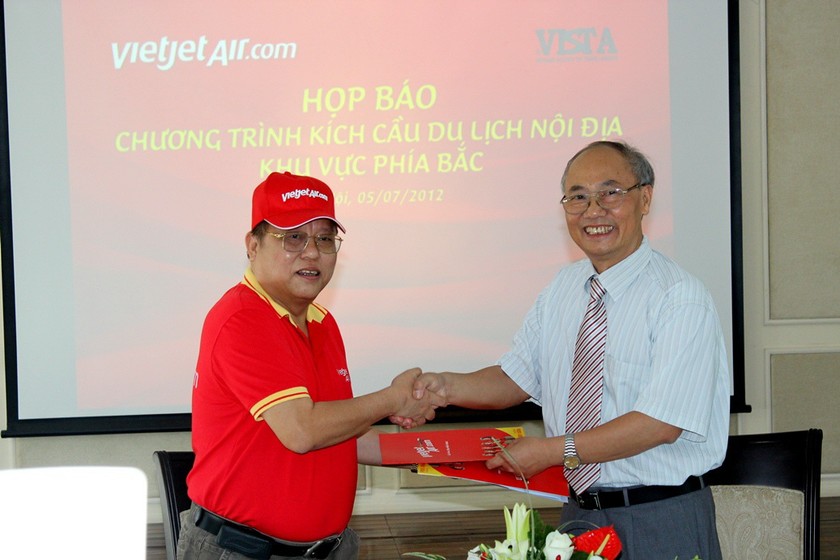 Vu The Binh, Vista's chairman (R) and Nguyen Duc Tam, VietJet Air's deputy chief, exchange agreement terms (Photo: Courtesy of VietJet Air)
Accordingly, VietJet Air will offer 49 percent discount on fares to   holidaymakers in northern Vietnam for the next six months.

This domestic travel stimulus will introduce exclusive low-cost holiday packages to help lure travellers to the country's most celebrated destinations from July 15 to December 31, 2012.

As a key partner in the deal, VietJet Air will provide low-cost tickets with favorable and flexible terms and conditions to participating travel agencies.
The travel agencies themselves will also try to offer competitively priced and high quality tours to help tourists further explore Vietnam's holiday destinations.

For the HCMC-Hanoi route, which enjoys the highest traffic, VietJet Air will offer even lower fares than normal for travel agencies while also increasing flight frequency to meet surge in demand during summer and year-end holidays.

The travel stimulus program initiated by HTA, will last until the end of the year and aims to boost demand for domestic travel in Vietnam. VISTA and HTA have also been cooperating with localities to help slash service prices for travel agencies.

In related news, Jetstar Pacific Airlines announced the increase of more flights on the HCMC-Da Nang and the Hanoi-Da Nang routes. As travel demand increases in July, the airline will launch 48 flights to Da Nang from HCMC and Hanoi.

Accordingly, on July 12, from Thursday to Sunday, Jetstar Pacific will launch an additional five round trip flights between HCMC-Da Nang and two between Hanoi-Da Nang.

The airline will also sell cheaper flights on the HCMC-Hai Phong route in the North and Vinh in the Central region at VND650,000, starting September 5-26.