Vietnam's fastest growing airline is preparing for a long summer holiday season, adding an extra 1,600 flights with 300,000 more seats, to serve vacation travellers from mid-May until end of August.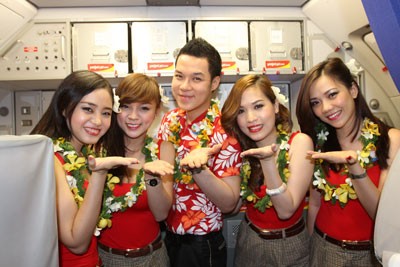 Vietjet Air's flight attendants
Now officially Vietnam's largest budget airline, VietJet Air has become known as a fun and friendly choice for holidaymakers travelling to some of the country's most famous beaches and holiday destinations.

The Hanoi-Da Nang route will have two to three flights a day, while flights from Ho Chi Minh City to Nha Trang, Phu Quoc, Vinh and Hai Phong will double from May 20 to August 31.

During the summer break, VietJet Air will open new routes from Hanoi to Nha Trang, one of the country's most famous beach destinations, starting with two round trips per day.

There will also soon be a daily flight from Ho Chi Minh City to the coffee capital of Vietnam, Buon Ma Thuot in the Central Highlands. Existing routes from Ho Chi Minh City to Hai Phong and Bangkok as well as from Hanoi to Da Lat are also due to increase in frequency.

Bookings can be made via www.vietjetair.com, or by calling +84 190 018 86 or contacting your nearest VietJet Air sales outlet in Vietnam or Thailand.

"We are committed to creating more low-cost flights for our customers by expanding our network and scheduling more flights," said Desmond Lin, Business Development Manager of VietJet Air.
VietJet Air has grown from strength to strength since its debut on December 31, 2011. The airline now has more than 400 flights a week, on Airbus A320 aircraft, and has served more than one million passengers.

The carrier also boasts 10 routes with domestic connections and one international route, and according to Lin, will soon introduce more international flights to major cities in Asia.