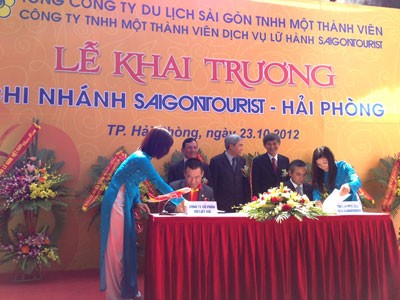 Representatives of Vietjet Air and Saigon Tourist sign the new tir-up deal on Oct. 23, 2012 in the northeast port city of Hai Phong. (Photo: Courtesy of Vietjet Air)
Vietnam's low-cost carrier VietJet Air and Saigon Tourist have launched a joint tourism promotional scheme on October 23, to target more domestic and international travelers to the country's northeastern shores.
The scheme will also help in promoting 'Year of Tourism' in 2013 in Hai Phong Province.VietJet Air and Saigon Tourist signed the new tie-up deal in the northeast port city of Hai Phong.
The two companies will offer travelers with low-cost tours, prioritize facilities and travel services, and help grow Hai Phong Province and neighboring localities into a competitive tourism destination in Vietnam.

On October 1, VietJet Air had launched a new flight route from Ho Chi Minh City to Hai Phong Province on Airbus 320, initially only once a day. The two hour flight will leave Ho Chi Minh City at 9.50am and depart from Hai Phong at 12.30 in the afternoon.