Vietjet received full membership from the International Air Transportation Association (IATA) yesterday, affirming the new-age carrier's role and position in the aviation community in Vietnam and the world.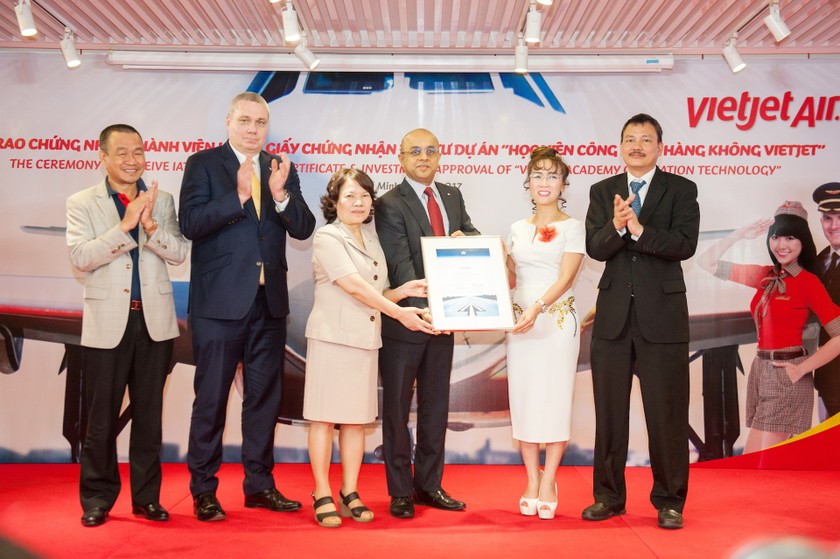 Vinoop Goel, Regional Director of IATA Asia Pacific (4th, left) presents the IATA membership certificate to Vietjet's President & CEO Nguyen Thi Phuong Thao (2nd, right) with witness of Mr. Lai Xuan Thanh, Head of Civil Aviation Authority of Vietnam (1st, right) (Photo: Courtesy of Vietjet)
Prior to attaining membership, Vietjet had been certified by the IATA Operational Safety Audit (IOSA).
 
IATA, the most professional, consistent and comprehensive voice of the international aviation industry, actively seeks to support and increase the benefits for all airline members through international recognition, orientation for the industry priorities, encouragement for promotion and innovation in the industry, cost management and cooperation campaigns for communication, training and other services.
 
In his congratulatory letter to Vietjet, Antony Tyler, Director General & CEO of IATA said: "I am honored to congratulate Vietjet on receiving IATA's full membership. IATA's mission is to represent, lead and serve the airline industry and is the collective voice of some 272 airlines from over 117 countries worldwide. Our vision is to be the force for value creation and innovation driving a safe, secure and profitable air transport industry that sustainably connects and enriches our world. I believe in Vietjet and hope the airline will continue to have more fruitful achievements by maximizing the benefits of being an IATA's member."
 
Also Vietjet recently announced the airline had continued to post positive growth through 2016 with a revenue of VND27,532 billion (USD1.21 billion) and a profit of VND2,394 billion (USD105 million). With its commitment to tapping increasing demand for air-travel, the airline also achieved a load factor of 88.9percent with more than 14 million passengers carried last year, greatly contributing to the development of Vietnam's aviation industry and economic growth in Vietnam in the process.
 
Vietjet's operational side also registered a high performance in terms of safety and reliability compared to other airlines in the Asia-Pacific region. It operated a total of 84,535 flights accounting for 121,213 flight hours in 2016. The airline's technical reliability stood at 99.56percent, the highest rate obtained to date by any airline operating A320/A321 in the region. On-time performance for the year stood at 83.6percent.
 
Vietjet today also cheerfully received investment approval from the People's Committee of Ho Chi Minh City - Board of Management of Saigon Hi-tech Park for its Aviation Technology Center project as part of a program to develop the Vietjet Aviation Academy in Saigon Hi-Tech Park. The project will break ground in March 2017 and go into operation this December – the first phase will be a Full Flight Simulator Center for pilot training, run in cooperation with aircraft manufacturer Airbus.