A Fokker 70 aircraft of state-owned carrier Vietnam Airlines left Hanoi October 24 on an inaugural direct flight to Tuy Hoa Town, Phu Yen  province.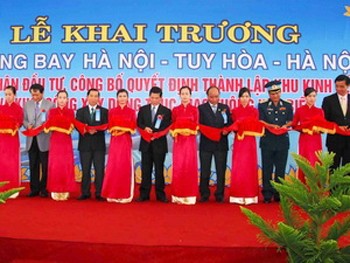 President Nguyen Minh Triet (6th, L) at a ceremony held in Phu Yen Province October 24 to launch a new direct flight from Hanoi to Tuy Hoa (Photo: VNA)
The new direct route from the capital to the central town was launched with a ceremony the same day in Phu Yen Province.
During the event, President Nguyen Minh Triet said that with an economic growth rate of over 10 percent a year, the new direct route will give Phu Yen a boost to its tourism development.
Each week there will be three return flights from Hanoi to Tuy Hoa on Monday, Wednesday, and Saturday. It is expected that the flights will take approximately one hour and 40 minutes.
Phu Yen Province also announced it would establish the Nam Phu Yen Economic Zone and offered investment certificates for creative city projects with a total capital of US$1.6 billion.
It also offered certificates for projects relating to the Le Uyen new urban area worth VND1 billion ($56,000) and began work on a 15-kilometer coastal road worth VND700 billion ($39 million).