National flag carrier Vietnam Airlines signed a contract of over US$112 million Friday to buy six turboprop ATR 72-500 planes from European manufacturer ATR.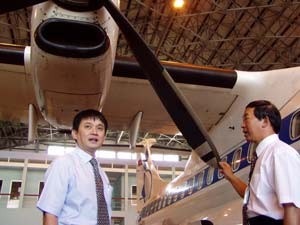 Vietnam Airlines senior executives checks an ATR-72 plane in use, standing in a hangar at International Tan Son Nhat Airport in Ho Chi Minh City (Filed photo: Tuong Thuy)
The first plane will be delivered in June 2009 and the last one in the contract will arrive in February 2010, Vietnam Airlines CEO Pham Ngoc Minh said in the signing ceremony in Hanoi.
He said, "Thanks to the substantial growth of Vietnam's domestic and within-Indochina aviation markets, the demand for aviation transport services from big cities Ha Noi, Da Nang and Ho Chi Minh City to such tourist destinations as Nha Trang, Da Lat, Phu Quoc, Siem Reap, Phnom Penh and Luang Prabang is accelerating rapidly."
"We strongly believe that with today's purchase deal of six further ATR 72-500s, we will satisfy the increasing demand for services on short-haul routes."
The flag carrier is using these aircraft for short-haul flights. It will expand its ATR 72-500 fleet up to 14 aircraft by 2010, including 11 ones on order between 2009 and 2010.
The aircraft will also be equipped with the "Elegance" cabin, according to the corporation.
Vietnam Airlines started operating ATR aircraft in 1992, and made previous orders for '-500 series' in 2001 and 2007.
ATR CEO Stéphane Mayer said, "The success of the regional operations of Vietnam Airlines plays an important role in the expansion of the ATR aircraft fleet in Southeast Asia."
Vietnam Airlines currently operates a fleet of 50 aircraft and plans to expand its fleet to 104 and 150 aircraft by 2015 and 2020. It is now flying to 19 domestic cities throughout Vietnam and 23 international destinations.
Vietnam received 3.9 million foreign visitors between January and November this year, increasing by 1.1% from the same period last year.