The national flag carrier Vietnam Airlines on June 27 announced that it would officially open a direct flight route from Hanoi in Vietnam to Chengdu in China.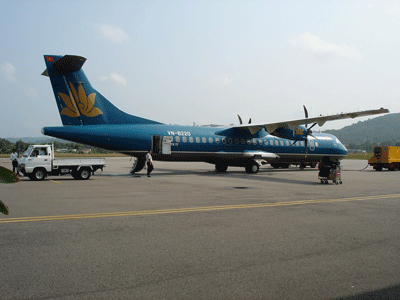 Vietnam Airlines officially opens a direct flight route from Hanoi in Vietnam to Chengdu in China (Photo: T. Han) 
Vietnam Airlines plans to use Fokker 70 aircraft to fly between Vietnam and China. There will be three flights per week on Wednesday, Friday and Sunday.
According to flight schedule, the plane takes off from Hanoi at 12.10am and from Chengdu at 4.15pm local time, with the flight duration being two hours.
Trinh Hong Quang, deputy director-general of Vietnam Airlines, said that the new route will help in promoting tourism, culture, education and business travel between Vietnam and China.
Tourists will have a chance of visiting Chengdu's interesting locations, home to UNESCO-recognized natural heritage sites of Nga Mi Son, Cuu Trai Cau and Lac Son Dai Phat.
The opening of the sixth direct flight route to China has raised the flag carrier's total number of direct flights between the two countries to 36 per week.
On this occasion, Vietnam Airlines will offer new promotional programs. It will sell a round-trip ticket for VND5,220,000 and a package tour for VND12,500,000 per ticket, excluding airport tax, for tickets booked from June 27 to December 31.