The national flag carrier Vietnam Airlines announced that it will offer free of charge services supporting disabled passengers starting in the middle of October.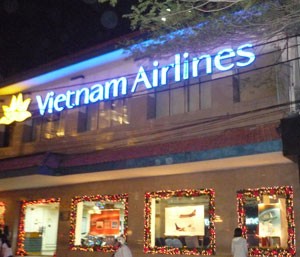 Disasbled passengers must order special services with the carrier 8-24 hours before their scheduled flight time. (Photo: KK)
Accordingly, passengers with disabilities, such as deaf, blind, physically challenged, and the elderly will receive free assistance in the airline's terminals and on their flights.

The carrier will provide wheelchairs to passengers with moving difficulties and free transportation of guiding dogs, reserves a priority counter for travelers who require special assistance.

Guests must state their health conditions and order special services 8 hours prior to the departure of a domestic flight and 24 hours before scheduled departure time of an international flight.

Vietnam Airlines also offers a discount of 15 percent for economy tickets on some domestic flights to bring more opportunities for passengers with disabilities.