A new wide-body A330-200 aircraft manufactured by Europe-based Airbus touched down at Noi Bai Airport in Hanoi Wednesday to join the Vietnam Airlines fleet as the eleventh A330.
The country's flag carrier says the plane will enter service soon on flights to destinations across the Asia-Pacific region.
The new aircraft arrived came from the Airbus delivery centre in Toulouse, France with three tons of dialysis equipment donated to the Hanoi Nephrology Hospital to treat patients suffering from chronic kidney failure.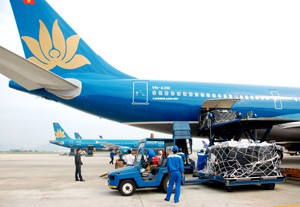 Kidney dialysis equipment is unloaded from the new A330-200 plane at Noi Bai Airport in Hanoi November 30, 2011
The donation was arranged by Professor Jean J Conte from Paul Sabatier University in Toulouse, France and the "Association Midi-Pyrénées Santé" (Health Association of the Midi-Pyrenees).

The equipment transportation was the second arranged by the Airbus Corporate Foundation and Vietnam Airlines, following a similar operation in June 2010.
Airbus established the foundation in 2008 to facilitate charitable and humanitarian activities across the world.