From October 30 Vietnam Airlines will operate four direct flights a week between Ho Chi Minh City and Rach Gia, the southwest coastal town from where hydrofoils travel daily to Phu Quoc Island.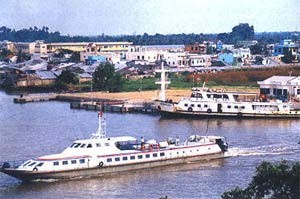 Hydrofoils travel daily between Rach Gia and Phu Quoc Island
At present the national carrier flies to Rach Gia via Phu Quoc, a journey that takes two hours and 20 minutes. By flying direct, it will only take 50 minutes to get to the town.
The service will be available every Monday, Wednesday, Friday and Saturday and cost VND500,000 one-way.
The airline predicts more than 200,000 passengers will use the new service in the first year, after which the number should increase by 20% annually.
The Ho Chi Minh-Phu Quoc-Rach Gia flights will be retained, in fact they will be increased to four times weekly from October 24 from the three now.
A Vietnam Airlines official says the corporation attaches great importance to its services between Ho Chi Minh City and Phu Quoc.
The tourist island, which is part of Kien Giang Province, is developing fast and Viet Nam hopes it will soon become a tourism, trade and service hub for the country and even the region.
 
So far this year, the Kien Giang Province People's Committee has approved 12 projects with combined capital of VND670 billion (about US$42 million).
Most of the projects, which will take up more than 60 hectares of land, are hotels and restaurants and one is a hot spring resort, according to provincial investment officials.