Vietnam's flag carrier said it would launch direct services to Britain on December 8, 2011, following the upgrading of the two countries' relations in September 2010 with the bilateral Strategic Partnership Agreement.
A Vietnam Airlines statement late Sunday did not say how many flights would initially operate to London's Gatwick Airport, or whether they would originate from Hanoi's Noi Bai Airport or Ho Chi Minh City's Tan Son Nhat.
The State-run corporation said it would use Boeing 777 aircraft, added that the frequency would increase to seven a week by 2014.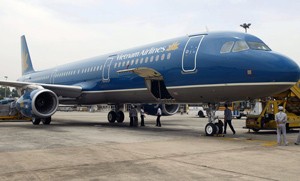 (File) A Vietnam Airlines plane
A corporation source, however, said Monday that the non-stop flights would come from both cities to London.
Another aviation source said Vietnam Airlines is considering four services a week, twice from Hanoi and twice from HCM City.
Meanwhile, UK airlines are also "actively" considering commencing services, according to the source.
Vietnam Airlines already serves European destinations in France's Paris, Germany's Frankfurt and Russia's Moscow.
On May 6, officials from the UK Department for Transport, accompanied by representatives from British Airways and the British Embassy in Hanoi, concluded discussions in the capital with the Civil Aviation Administration of Vietnam and Vietnam Airlines to help facilitate direct bilateral air services between the two countries, with the aim to have services commencing this autumn.
A British Embassy statement that day said "A direct air service is a very significant step" towards the two countries' bilateral Strategic Partnership Agreement.
The statement reads, "It is hoped that the services will benefit both Vietnam and the UK by enabling increased bilateral trade, easier access for Vietnamese students to British education institutions and promoting cultural links ahead of the London 2012 Olympic Games."
British Ambassador Dr Antony Stokes said in the announcement, "I am delighted that direct flights between the UK and Vietnam are today a step closer. This is a very real and positive signal of our increasingly warm and close relationship across our entire bilateral agenda.
"The confirmed details of this new route such as frequency and timings should emerge soon and I very much look forward to the anticipated launch of services in the autumn. This is an excellent opportunity for both our countries ahead of such events as the London 2012 Olympic Games," he added.