Vietnam Airlines will operate hundreds of additional flights to cope with the rush during Tet, which falls in January next year.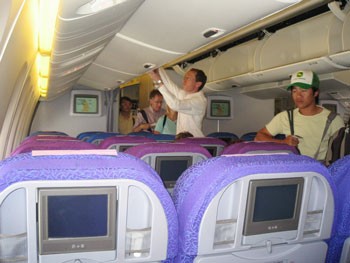 With petrol prices plunging recently, air carriers have repealed the fuel surcharge. (Photo:KK)
Faced with a 30 percent surge in demand, the carrier is set to operate an extra 832 flights on the Ha Noi – Ho Chi Minh City and HCMC – Da Nang sectors between January 10 and February 9. Tet is on January 26.
There will be 430 flights offering 110,000 seats in the Ha Noi – HCMC sector. The first flight will be at 5 am and the last at 11 pm.
Budget carrier Jetstar Pacific Airlines said tickets from HCMC to Vinh, Hue, and Da Nang have been sold out. Tickets are available on the HCMC-Ha Noi route.
With petrol prices plunging recently, Jetstar Pacific, Viet Nam Airlines, and international budget carrier Air Asia have repealed the fuel surcharge they have been collecting for many months now.
Air Asia fares will thus decrease by US$25 – 32 from Ha Noi and HCMC to Bangkok and Kuala Lumpur.
Jetstar Pacific and AIG General Insurance (Vietnam) Company Limited have signed a deal to offer passengers buying tourist insurance certain benefits.
They will be compensated VND160, 000-800,000 for every four-hour delay on local flights, VND4.8 million for lost luggage, VND480,000 for every eight-hour delay in luggage delivery, and VND320 million in case of accident or illness in a foreign country.
Passengers will get a full refund if the carrier cancels a flight.
The insurance premium is $2.5 on domestic flights and $9 for round international trips.