The representative office of Vietnam Airlines in the UK on January 13 announced that the firm will provide its services at Heathrow Airport's T4 Terminal instead of Gatwick Airport from March 31.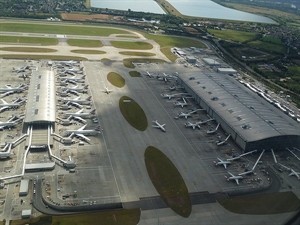 London Heathrow Airport (Photo: planetbrowser.com)
Along with launching its direct services from Heathrow, the national flag carrier will increase its weekly flights to five from four at present, including three Hanoi-London flights and two others between Ho Chi Minh City and London. The firm has planned to operate a daily service on the route by 2016.
Heathrow is the first international airport Vietnam Airlines has chosen to operate its new Boeing 787-9 fleet.
Vietnam Airlines General Director Pham Ngoc Minh revealed that his firm will use aircraft Airbus 350 and Boeing 787-9 in the next three years as part of its effort to modernise the firm's fleet and increase the quality of its services.
The move is towards realising the firm's long-term target of becoming one of the major carriers in Southeast Asia, Minh said.
John Holland-Kaye, Heathrow Airports' CEO spoke of Vietnam Airlines' decision to operate its new aircraft Dreamliner 787-9 at Heathrow Airport, stressing that this will help ensure regular direct flights between the UK and Vietnam, one of 20 important countries for British businesses.
From the 2nd quarter of 2015, the carrier will be the first Asian airlines operating two new aircrafts B787-9 and A350.
According to statistics of Vietnam Airlines representative office in the UK, since the launch of Vietnam-UK direct route in late 2011, the number of customers from the UK to Vietnam using Vietnam Airlines services surged to 76,958 in 2014 from only 37,020 in 2011. The firm carried a total of 90,803 passengers on the route last year.