Vietnam is home to three among Asia's 27 natural wonders listed by website Smarter Travel.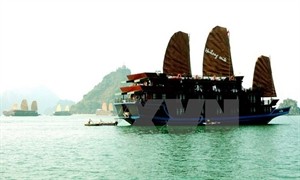 Boats on Ha Long Bay (Photo: VNA)
Ha Long Bay came first in the list, described as a giant sea dragon with over 1,500 islets jutting out of the turquoise water.
Son Doong Cave, the world's largest cave took the 19th place. Located in central Vietnam, the cave is over 200 metres high and 150 metres wide. It is home to a network of underground rivers, tropical jungle and even beaches.
Can Gio Mangrove Forest in Ho Chi Minh City is also named in the list. The forest is home to around 200 different species of wildlife and 150 rare species of flora.
Other natural wonders on the list include Longdong of Taiwan, The Chocolate Hills of the Philippines, Flaming Cliffs of Mongolia, Thi Lo Su Waterfalls in Thailand, Mt. Kelimutu in Indonesia and Kuangsi Falls in Laos.