International visitors to Vietnam in November numbered over 611,800, increasing by nearly 43 percent over the same period last year, reported the General Statistics Office.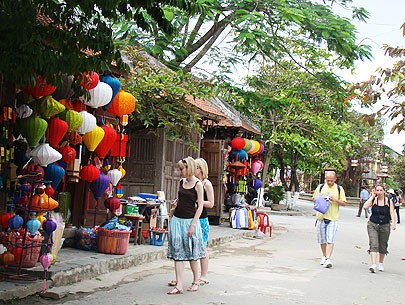 International visitors in Hoi An
Vietnam has welcomed more than 5.42 million international visitors in the first 11 months of 2011, a rise of nearly 18 percent compared to the same period in 2010.
The country is likely to reach its target of welcoming 5.5 million international tourists in 2011, though expectations could exceed 6 million this year, as the peak season is still not over.
The peak tourist season is just beginning and will last until April of next year. Many travel agencies show high profits during this season as more and more tourists from Japan, Russia and Australia are   selecting Vietnam as their favorite destination.
Nguyen Van Tuan, head of the Vietnam National Administration of Tourism, says that Russia is one of the top 15 markets sending tours to Vietnam. Last year, nearly 83,000 Russian visitors came to Vietnam, up by 68percent year-on-year. This year, some 120,000 Russian vacationers are expected to fly to Vietnam.
Vietnam tourism has been in the top five export and service sectors bringing in the highest revenue for the country. This year tourism is expected to bring in a turnover of VND110 trillion, accounting for 4.5 percent of the country's gross domestic product.