With a long coastline of over 3,200km, Vietnam has a huge advantage for developing cruise tourism and becoming one of the main destinations for such tourism in the South East Asian Region.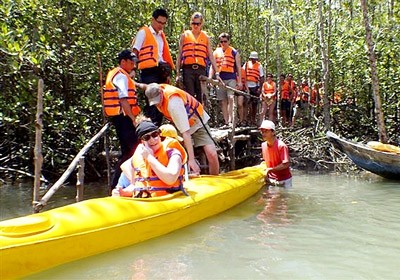 International cruise tourists visit Can Gio Biosphere Reserve in HCMC. (Photo: Sggp)
However, the country has so far not been able to develop the coastline for international tourisms due to poor investments and undeveloped infrastructure services.
According to Saigon Tourist Company, the country's leading travel agency, conferences and exhibition on cruise ship tourism have drawn enthusiasm from many cruise ship companies who have highly appreciated Vietnam's cruise ship tourism potential because of its beautiful landscapes, friendly people, diversified biodiversity and cultures, and international ports along the sea from the North to the South.
Many cruise ships from the US, Europe and Asia have recently brought passengers to Vietnam, said Doan Thi Thanh Tra, marketing manager of Saigon Tourist.
Cruise ship tourism is one of the most successful and effective businesses of the company. The enterprise received 17,000 passengers on 35 cruise ships in 2006; 58,000 on 62 trips in 2007; 120,000 on 90 ships in 2008; and 115,000 visitors in 2011.
Saigon Tourist has welcomed more than 140,000 passengers in the first four months of this year.
Rich cruise passengers are willing to spend money for the length of their stay from 24-48 hours. However, Vietnam is now just a Port of Call for foreign cruise ships, but not considered as a Port of Embarkation or Port of Turn-around.
Meanwhile Singapore, Hong Kong (China) and Shanghai that own the world's busiest airports with large number of flights have become Ports of Embarkation and Ports of Turn-around and developed a strong cruise ship tourism.
Vietnam has not yet developed a tourism pier to receive big cruise liners that presently have to dock at trading ports.
 
Cruise passengers can also have unexpected demands. Hence, unattractive destinations, poor infrastructure and services have made Vietnam poor competition for other countries in the region.