Vietnam Railways Corporation is currently hard pressed to justify the commotion in hard purchase of Tet train tickets, explaining its inabilities as skyrocketing demand far exceeding supply and lack of facilities to handle the volume of people.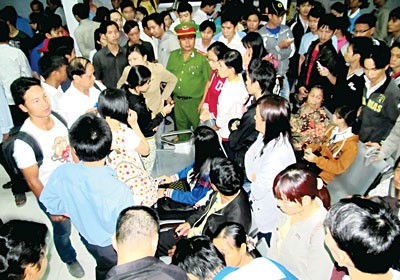 People queuing to buy Tet train tickets at Saigon Railway Station (Photo: SGGP)
In a report sent to the Ministry of Transport, the corporation explained that it had stepped up control to tackle almost 100,000 login accounts on the first day of online sale of Tet tickets. However, their website crashed with hundreds of people accessing at the same time.
Explaining why the corporation does not continue selling tickets online but requires customers to buy through agencies which takes a lot of time--Nguyen Huu Tuyen, head of the sales division, said that different sales methods were necessary for a wider infrastructure, limit speculation and ensure all people have access to tickets.
Hanoi Railway Station sells tickets during peak time of the Tet season via agencies, while Saigon Railway Station only applies this method before and after peak time, to limit speculation.
The railway industry operates at maximum capacity but still fails to meet travel demands which usually skyrocket during the Tet festival season.
Tuyen said it is very difficult to deal with hard purchase of Tet tickets because the gap in supply and demand during the Tet holiday season exceeds all limits.
The railway industry is currently developing a program for the electronic sale of tickets which is expected to come into operation by 2014.