Paperwork is being prepared for Ba Be-Na Hang natural heritage site in the northern provinces of Bac Kan and Tuyen Quang to apply for UNESCO recognition as a world heritage site.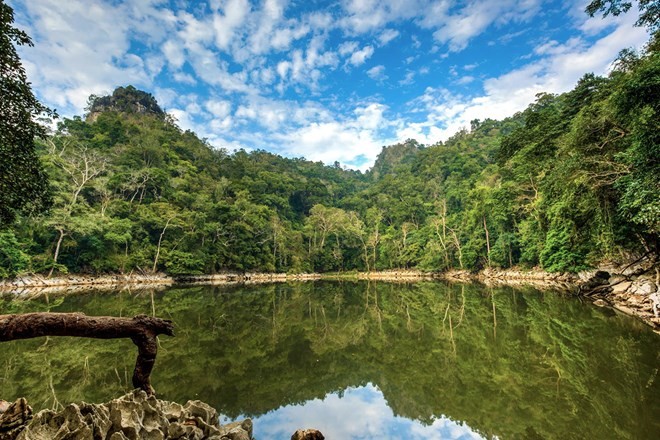 Fairy Pond at Ba Be National Park (Photo: babenationalpark.com.vn)
Deputy Prime Minister Vu Duc Dam has asked relevant authorities to compile a dossier for submission to UNESCO.
The Ministry of Culture, Sports and Tourism was ordered to guide Tuyen Quang province People's Committee and Bac Kan province People's Committee to produce the scientific dossier and send it to the Prime Minister for approval.
The two People's Committees were directed to work with relevant agencies to prepare for the documents in line with the 1972 World Heritage Convention and regulations on cultural heritages.
Covering an area of 33,000 hectares, Na Hang Nature Reserve is located in Thanh Tuong, Son Phu, Khau Tinh and Con Lon communes and Na Hang town in Tuyen Quang province, bordering Bac Kan province.
It has 21,000 hectares of special-use forest, stunning natural landscapes and high biodiversity. It is also home to more than 2,000 species of flora, 88 species of animals, 294 species of birds, 30 species of reptiles, 18 species of amphibians, 300 kinds of butterflies, 40 kinds of bats and thousands of kinds of fish, including those listed in the Vietnam Red Book and World Red Book.
Meanwhile, Ba Be Lake, the heart of the Ba Be National Park, is a rare freshwater lake on karst. More than 10,000 years ago, an earthquake caused a collapse of the subterranean Nang River, creating a natural dam which led to the formation of Ba Be Lake.
Some 1,268 species of vascular plants, 470 species of vetebrates and at least 367 species of butterflies live around the lake.
Ba Be tourist attraction is also famous for scenery like Dau Dang waterfall, a system of caves, the fairy pond and widow's island.