Only 3.8 million foreign tourists visited the country in 2009, a year-on-year fall of 11 percent, with critics blaming it on poor coordination between the hospitality, airline, and tourism industries.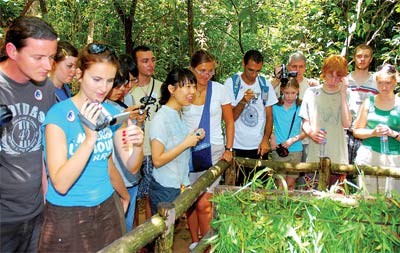 Tourists at the Cu Chi tunnels near HCMC. Vietnam saw tourist arrival numbers fall by 11 percent last year, much higher than in neighboring countries (Photo: SGGP)
The 11 percent decrease was much higher than the average figure of 5 percent in the Asia-Pacific.

Vietnam, once one of countries with the highest tourist-arrival growth rate in the region, saw a sharp decrease for the first time in many years.

Ho Chi Minh City, the country's tourism hub, had adjusted its target from three million to 2.6-2.7 million visitors but received only 2.5 million.

Luxury hotels reported occupancy rates of only 40-50 percent.

The number of foreign visitors arriving in HCMC on the first day of the year was also less than last year. Giant tourism companies managed to get few inbound tours, with the biggest group containing just around a dozen people.

Reasons

Japan and South Korea are traditionally the country's largest markets and have always topped the list of countries sending the largest number of visitors to Vietnam. But in 2009 they saw the highest drops in the number of tourists, with 20 percent fewer South Koreans and 9 percent fewer Japanese coming.

Tourist companies blamed the decrease on room tariff hikes, saying this displeased their Japanese partners who organized tours to other countries in the region, instead.

Some hotels raised their rates after a year of preferring to sell a room rather than keep it vacant.

The traffic jams in major cities are a major worry for tourist companies as is the presence of beggars at tourist destinations.

Another reason for the plunge in tourist arrivals was the local airlines' failure to cooperate with tourist companies to reduce fares for foreign visitors.

The country had set itself a target of six million visitors in 2010 but the tourism sector fears only 4.6 million will arrive.

Meanwhile, more and more Vietnamese have begun to travel abroad.