Hoang Thi Diep, deputy director of Vietnam National Administration of Tourism, said on January 5 that the tourism industry is targeting 7.2 million international tourists this year, an increase of 5.15 percent from last year.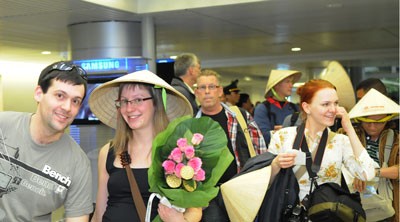 First foreign visitors to Vietnam in 2013 (Photo: SGGP)
They also aim to serve 35 million domestic visitors, a 7.69 percent increase from 2012.
Total revenues from tourism are expected to reach VND19 trillion (US$911.27 million), a huge increase of 18.75 percent from last year.
To obtain the above target, the administration will focus on improving food safety and hygiene and implementing measures to protect foreign visitors from harassment and unpleasant incidents like robbery and over exploitation.