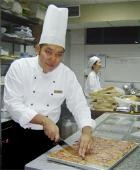 Chef Siva and his banana cake Photo: C.H. Yen
In 2004, Siva Hengprom, a young Thai cook flew to Viet Nam to carry out his dream of learning to cook Vietnamese cuisine.
Original Discoveries
Siva first heard about Viet Nam and its food from a magazine. And one day, his friend took him to a Vietnamese restaurant in Bangkok where he fell in love with spring rolls.

With a professional curiosity, Siva was always thinking about Vietnamese food. He wanted to taste more Vietnamese food, especially traditional foods such as Pho and Hot-Pot, which later became his favorite dishes. His longing for more Vietnamese culinary discoveries together with his skills to make pastry brought him to the Windsor Plaza Hotel in Ho Chi Minh City.

After six months, Siva found out that Vietnamese and Thai food are rather similar. The cuisine is the same and the difference is just in ingredients. "Thai people like to eat spicy food, and Vietnamese people like to eat food which is not so hot, spicy and sweet." said Siva "Well, we can compare Hot-Pot in Viet Nam with the Thai Suki. They are the same, just different in the sauce and noodles. And Vietnamese desserts, I think, are the same as Thai ones."

At the hotel, Siva had a chance to enjoy and learn about the characteristics and diversity of Vietnamese food. Siva was enchanted by the fine and attractive features of Vietnamese traditional gastronomy. For this reason, he decided to try cooking the Vietnamese style.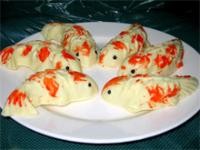 Chocolate taro cake made by Chief Siva
Because Vietnamese cuisine, while distinctive, has ingredients in common with Thai cooking, Siva learned how to cook Vietnamese food very quickly and his specialty became pastry. Siva always wanted to learn more about Vietnamese pastry and asked for advice from a Vietnamese chief, who specializes in making Vietnamese cakes.

Siva said "I love to eat Thai desserts so I tasted many kinds of Vietnamese desserts when I first came to Viet Nam, and I was fascinated by them." For him it is not difficult to make Vietnamese pastries because many require the same technique as Thai ones.
Vietnamese - Thai food

Cooking is not purely mixing ingredients according to a recipe, but it requires creativity. Siva is always creative at using materials, spices and especially combining different styles to prepare new dishes. With some desserts, he changes the ingredient to flavor, to give them a new taste and suit to the taste of customers from various countries but still retain their specific Vietnamese flavor.

His cakes are not very sweet and not too heavy. Siva is very good at making Vietnamese banana cake, Tao Xon sweet soup, and steamed banana cake with coconut milk,… And if you, a Vietnamese, have a chance to taste them, you will hardly know that they were made by a Thai cook.

Baking pastry runs in Siva's blood. For generation, his family have been creating tasty treats for the Thais. Therefore it is not surprising that he returned to his family's call after working as a lawyer. His true destiny and creative genius would not be denied, and I, for one, after tasting his unique delicacies, am delighted that he returned to his family's tradition.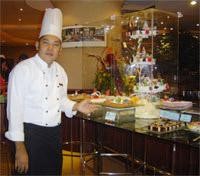 Chef Sivav and his cakes for Xmas Photo: C.H.Yen

Siva is an experienced pastry chef and he used to work for many 5-star hotels like Regent Hotel Bangkok, Embassy Windsor Suite Hotel, Novetel Hotel Bangkok, Le Royal Meridien Hotel Bangkok, etc. His pastry skills are not restricted only to Vietnamese but also international pastries, from East to West.

He has had a lot of food promotion shows in Hong Kong, Singapore, Brunei, South Korea, Laos, and Malaysia, etc. And Siva won two Gold Medals for Ice Carving and Chocolate Show Piece, two Silver Medals for Theme Liveshow decoration and Showpetice Petit Four, etc.

These achievements demonstrate Siva's tireless effort and creativity, which comes from his real love for his profession. He has won the hotel management's trust in introducing various Vietnamese pastries to foreign and Vietnamese customers. At present, he is taking care of all pastry for all six restaurants of the Windsor Vietnam Group.