Cambodia, Thailand and Singapore are in the top ten markets with the greatest number of international visitors to Viet Nam in the first six months of 2006. When member countries of the Association of Southeast Asian Nations (ASEAN) sign a framework agreement on mutual visa exemption in late July, how does the Vietnamese tourism prepare for this opportunity?
Most visitors to Viet Nam come from ASEAN member countries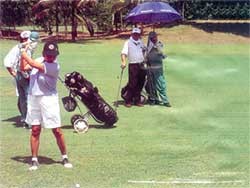 Southeast Asian visitors are interested in playing golf in Viet Nam.
Recently, it was not accidental that Malaysia, Singapore and Thailand chose Viet Nam as one of their main markets for tourist promotion.

Tourism Authority of Thailand (TAT) attended International Travel Expos in Viet Nam at least twice a year to present Thai tourist products, including cuisine and shopping.

Singapore has also opened its promotion office of import-export, overseas study and tourist in Ho Chi Minh City (HCMC). Their promotion campaigns took place quarterly.

And it was only lately that Malaysian Minister of Tourism YB Datuk Seri Tengku Adnan Tengku Mansor arrived in HCMC in the beginning of July for the "Visit Malaysia Year 2007" campaign.

In fact, there were about 60,000 Vietnamese visitors traveling to Cambodia and Malaysia every year and 80,000 to Thailand. As the Vietnamese market with dozens of thousands of visitors was a negligible number, compared to 10 million international visitors to Malaysia and Thailand, why was Viet Nam considered as a main market?
In reality, countries with developed tourism have prepared plans for the opportunity of mutual visa exemption of member countries of ASEAN in future. And Viet Nam with a population of 80 million and a growing economy will be an attractive market. 

Visitors who come from Asian countries have accounted for 70 percent of the international visitor market in Malaysia.

According to Vietnamese tourism's statistics in the first six months, there were 107,677 Cambodian visitors to Viet Nam, increasing 20.1 percent year on year, 61,000 Thai visitors (up 59.5 percent), more than 48,000 Singaporean visitors (up 37.1 percent) and over 45,000 Malaysian visitors (up 29.1 percent).

The four countries now are in the top-ten markets with the greatest number of visitors who came to Viet Nam in the first six months of 2006 and the fastest growing markets.

Catching the chance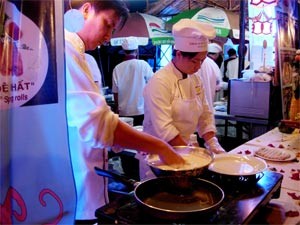 Firts Hotel's cooks are guiding visitors how to cook a Vietnamese dish in a cuisine fair in Vung Tau Sea Festival 2006. (Photo:KK)
Viet Nam's strong points are its sea, islands, long beautiful and wild beaches and weather conditions in the northern region which are different from other ASEAN countries.  The heritage road in central Viet Nam is also an unique tourist product.

Anyhow, there were not many imposing shopping heavens and large-scale entertainment centers in Ho Chi Minh City and Ha Noi. The development plans and investment policies for these are still confusing and carried out slowly. 

Cambodian visitors are interested in tours of health, seeking business opportunities. Thai visitors prefer visiting sea regions and heritages.
Most visitors of Thailand, Laos and Malaysia know about Trung Nguyen coffee brand name and Vietnamese dishes of Pho or Cha Gio. Indonesian and Filipino are attracted by Vietnamese traditional and oriental medicine.
But tourist products have not been professionally invested yet. The same products are offered to visitors of countries in the Asia-Pacific region and to Russian and domestic visitors.
Meanwhile the orientations of tourist products, market trend surveys and promotion plans, which are carried out by relevant departments, are slower than enterprises' business. If Vietnamese tourism has not got any positive actions, we will miss a big business opportunity.