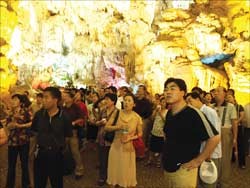 Chinese tourists visit a cave in Ha Long Bay
Six Vietnamese tourist companies are selected to receive cruise Chinese tourists, announced the Viet Nam National Administration of Tourism (VNAT) on May 2, 2006.
Chinese visitors will travel to Viet Nam by tourism cards on Bac Hai – Ha Long route.

China reopened this kind of tour in October 2005 after closing it for a long time to prevent their citizens from gambling abroad.
The six travel companies must guarantee that their Chinese visitors will not enter any casinos or receive any services on credit.
The companies agreed to offer a common tour price in a bid to restrict unfair competition, and promise to ensure service quality as stipulated in the tour contracts.