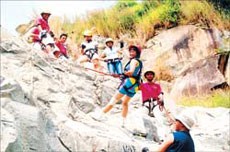 Tourists should be interested in insurance in this hazardous tour
Nowadays tourist insurance is considered a kind of promotion to attract tourists and boost the brand name of a travel company. However, few companies are interested in this. In fact, most travel agencies just generally mention packet insurance in their ads while offering different insurance premiums with poor information for tourists.

An important problem here is the way to claim for the loss on insurance. According to V.Y.C Tourist Company, in domestic tours, if tourists are in accident en route, they will first have to pay for all the costs themselves. Then, they give the bills to the insurance company to be refunded.
According to a survey of the SGGP newspaper, only a few tourist companies such as Fiditourist, Saigontourist, The He Tre are really offering insurance services. Unlike other companies that offer insurance services with compensation only in case of death, these companies do offer services with compensation even in case of tour-takers' injuries of 50% severity. Besides, Fiditourist, in coordination with Bao Minh Join-Stock Company, also has information and insurance service desks right in its office to offer consultancy and insurance policies to tour-takers.

Ms To Thi Hanh, Vice-director of Ben Thanh Tourist Center, says her company has signed a contract with Bao Viet Insurance Company. Under this contract, Ben Thanh Tourist will estimate the number of tour-takers it serves in a year and then pay annual insurance premiums for its customers. In this way, her company can assure customers of satisfactory insurance covers, and in case of mishaps, the tour-takers can get elaborate instructions in claiming for the loss on their insurance.

Vietnamese tour-takers disinterested in buying insurance
Currently, the Tourism Department of Ho Chi Minh City has not forced travel companies to buy insurance for their customers. Therefore, tourists have to decide whether to be insured or not. A problem here is that many Vietnamese tour-takers do not want to pay for insurance because they are superstitious and afraid of thinking of mishaps when going out on a tour.

Besides, including insurance premiums in the travel package will mean more costs on the part of the travel company and weaker competition in the tourist market. This has led travel agencies to avoid insurance offer in their package, except for a few compulsory cases with tours of European and American countries.

According to Mr. Luong The Vy, Vice-director of Viet Nam Tourist Guide Company, only 30% of tour-takers really care about insurance.

On the contrary, most foreign tourists think that insurance is indispensable. With tours for foreign tourists, most travel companies pay high insurance premiums for a wide variety of insurance covers.
Besides the premium of US$1.5/person/day, which enables claims for as much as US$10,000/person, tourist companies also pay for other forms of responsibility insurance. Thus, with the premium of US$10/person/tour, tour-takers can have a chance of insurance claim in various insurance covers, for example: US$30,000-40,000 in case of death, US$2,600 for treatment in case of accident, US$2,600 for lost luggage and US$5,200 for relieving and repatriation.

To avoid helplessness with tour-takers in case of mishaps, utmost attention should be paid to the package tourist insurance, and it is high time tourism authorities enforced stipulations for tourist companies to buy insurance for tourists.

In Viet Nam, you can contact Bao Minh and Bao Viet, two Vietnamese prestigious insurance companies for service of various insurance covers.