Canadian media company VTTH Departure Entertainment is paying a 15-day trip around Vietnam for a TV documentary to be aired internationally, a spokesperson from Saigontourist announced recently.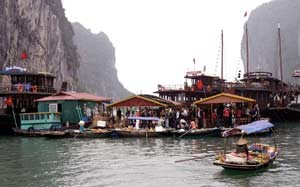 Foreign tourists enjoy a boat trip in Ha Long Bay (Photo: SGGP)
Saigontourist is also the main sponsor for the trip, with an aim to promote the beauty of the country, culture and people to the world. 
Arriving in Vietnam on May 9, VTTH's crew will visit and capture the beauty of the landscape, culture and the people in Ho Chi Minh City, the Mekong Delta's province of Tien Giang, the Central Highlands' city of Da Lat, the south central coastal cities of Quy Nhon, Hoi An and Da Nang, Hue city, Hanoi and Ha Long Bay.  
The 50-minute documentary film will be broadcast in Canada and on National Geographic International. 
VTTH Departure Entertainment produces documentary and travel films about countries around the world. Its programs have been broadcast on various channels in 100 countries and territories, in 34 languages and watched by 300 million people.