Vietnamese major tourism company Vietravel will resume air tours to neighboring Cambodia, starting on April 30, after almost one year's halt due to low demand, said its communications manager.
The Ho Chi Minh City-based firm, which won an Outstanding Tour Operator 2010 title from Cambodia's Ministry of Tourism, launched four-day air tours to the neighboring country last summer for almost US$500 per tourist. The high rate discouraged Vietnamese travelers and the service was halted.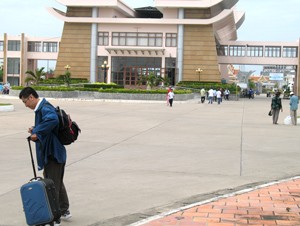 A Vietnamese traveler at Vietnam's Moc Bai Border Gate on a bus trip to Cambodia's Phnom Penh (Photo: Tuong Thuy)
Vietravel's new rate is US$350, communications manager Nguyen Minh Man said, adding that he thought it was "saleable" since it takes just more than one hour to fly from Ho Chi Minh City to Siem Reap, home to World Heritage site Angkor.
Vietravel was and is the unique Vietnamese firm to offer air tours to Cambodia. The firm says it managed to get a deal with Cambodia Angkor Air for the $350 rate.
April 30 is a national holiday of Vietnam and is followed by the May Day. This year, the two days fall on Saturday and Sunday. Therefore, people will have four or 3.5 days off in a row, April 30 till May 3.
For the occasion, travel firms are offering a four-day tour from HCM City to Cambodia for VND3.2 million - VND4.2 million per traveler, equal to a maximum US$200 plus. A five-day tour to Thailand costs VND6.2 - 6.6 million per traveler.
Tours to Thailand, China, Cambodia, Singapore and Malaysia are the most attractive to Vietnamese travelers for the occasion, according to local firms.
The Vietravel communications manager says his company served about 10,000 Vietnamese visiting Cambodia last year. Most of them traveled by bus from HCM City to Phnom Penh or Siem Reap.
The distance between HCM City and the Cambodian capital is about 230 kilometers and a bus trip takes more than four hours or so, making flying not the first choice.
About 70-80 buses currently commute between the two cities every day. Tourism officials of the two countries are working on doubling the number, according to Mr. Nguyen Van My, director of Lua Viet, another leading Vietnamese tour operator.