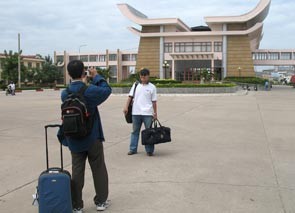 Vietnamese travelers go through Moc Bai Border Gate in Tay Ninh Province bordering Cambodia's Bavet (Photo: Minh Tuong)
Vietnamese and Cambodian holders of ordinary passports valid for at least six months will be exempted from visa as from December 4 this year, the Vietnamese Ministry of Foreign Affairs announced Monday.
Under a visa exemption agreement the two governments signed in Hanoi on Nov. 4, this exemption is applied for stays of up to 14 days in each other's territories.

Tour operators and tourism companies in Vietnam have hailed the agreement as they expect more Vietnamese and Cambodian tourists will visit the other country.