Cash-strapped budget airline Viva Macau has closed its ticketing offices in Hanoi and Ho Chi Minh City after its office closure in Macau on April 6.
"As a direct result of the revocation of the Viva Macau Air Operator Certificate – a globally unprecedented event in international aviation – Viva Macau is now seeking legal advice for an orderly and responsible winding down of the business," the airline's April 6 statement wrote.
The statement said any passenger inquiries should be sent to the Macau Government Crisis Center at Tourism Crisis Management Office, email: info@ggct.gov.mo, website: http://www.ggct.gov.mo.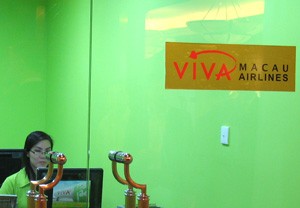 This file photo, taken on Dec. 7, 2009, shows Viva Macau's ticketing office in Ho Chi Minh City, located at the Sheraton Hotel, on the office opening day. The carrier has closed its Vietnam offices following its Macau closure. (Photo: Tuong Thuy)
On March 26, the carrier cancelled services because of '"fuel payment issues". Two days later, the city's first budget airline saw its license revoked by the Government after failing to offer assistance to passengers stranded by flight cancellations. Viva Macau said the termination of air operator certificate affected flights to destinations including Tokyo, Sydney, Melbourne, Jakarta, Ho Chi Minh City and Hanoi.
Viva Macau had been operating daily service to HCM City and three weekly flights to Hanoi on Tuesdays, Thursdays and Saturdays before its office closure in Macau.
Viva Macau's general sales agent in Vietnam – TransViet Travel – has emailed all passenger requests for refunds to the carrier but none of the affected passengers got the refunds so far, according to Mr. Le Viet Cuong, director of business development at TransViet Travel.