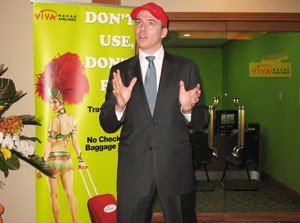 Viva Macau CEO Reg Macdonald gestures while opening the airline's new booking office in Ho Chi Minh City on Dec. 7, 2009 (Photo: Tuong Thuy)
Viva Macau, which increased frequency from four weekly flights to daily flights to Ho Chi Minh City this July, announced Wednesday it would fly to Hanoi in February next year.
The new Hanoi service will commence on February, 13, 2010, the final day of the old lunar year.
There will be three flights weekly on every Tuesday, Thursday, Saturday, with a choice of morning, evening or afternoon flight departing Macau at 7:45, 20:10 and 14:20 arriving in Hanoi at 8:45, 21:10 and 15:20, and return flight departing Hanoi at 9:30, 21:55 and 16:20 arriving in Macau at 12:30, 0:55 and 19:20.
As it is a new service, the airline is offering promotional fares from US$25 one way on economy class between Macau and Hanoi. Business Class tickets are also available from US$199.
On Dec. 7, Viva Macau celebrated the 2nd anniversary of its Ho Chi Minh City service, officially opening the new booking office located at the Sheraton Saigon Hotel. Viva Macau chief executive officer Reg Macdonald said Vietnam was one of the best markets for his company.
The carrier currently flies direct from Macau to Ho Chi Minh City, Tokyo and Sapporo in Japan, Jakarta, and Sydney and Melbourne in Australia.