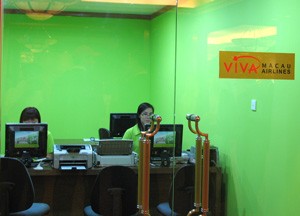 This photo, taken on December 7, 2009, shows the new Viva Macau ticket office in Ho Chi Minh City on the date it was launched. The office is located in the Sheraton Hotel. (Photo: Tuong Thuy)
Cash-strapped budget airline Viva Macau, which had its license to fly revoked by Macau's aviation regulator late March, said Thursday it continued to halt flights to Vietnam until April 8.
The low-cost carrier has cancelled its flights to Hanoi and Ho Chi Minh City for one week as the license was revoked and its sole fuel supplier in Macau had stopped pumping petrol to its aircraft. A statement issued by the LCC on Mar. 29 said that it would suspend flights to Vietnam until April 1.
It said the termination of air operator certificate affected flights to destinations including Tokyo, Sydney, Melbourne, Jakarta, Ho Chi Minh City and Hanoi.
Viva Macau said it has been providing refunds to affected passengers.
The airline has set up a hotline at 853-28718880 or 853-28718883 for enquiries.
In Vietnam, the hotlines for enquiries are (08) 38242123 in Ho Chi Minh City and (04) 22606688 in Hanoi.
Viva Macau had been operating daily service to HCM City and three weekly flights to Hanoi on Tuesdays, Thursdays and Saturdays before the suspension.