At a signing ceremony about Jeju- Vietnam cooperation agreements between the Korea Tourism Organization (KTO) of Vietnam, Jeju Tourism Promotion Department of the Republic of Korea (ROK), MICE Jeju Tourism Department and some outstanding traveling agencies of Vietnam, vice governor of the Jeju island Jeon Seong Tae said that the local authority has been promoting to open a direct air route connecting Vietnam and Jeju Island (South Korea).
Within the working tournament in Vietnam, the delegation of Jeju Government had a working with Vietjet Air. As plan, the flight will be launched in yearend.
The air route launching will help increase the number of Vietnamese tourists to the destination in the upcoming time, and proving the efficiency of visa exemption policy to Jeju for Vietnamese tourists .
Last year, Jeju Island received more than 25,000 Vietnamese arrivals, accounting nearly 10 percent of total Vietnam tourists to South Korea.
At the signing ceremony, the KTO agreed preferential policies to create further favorable conditions for Vietnamese tourist delegations.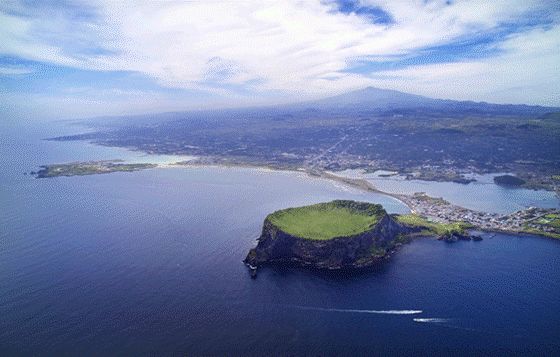 Seongsan IIchubong moutain is an attractive destination on Jeju island