Viet Nam's top tourism officials separately met with their counterparts from several neighbouring countries in HCM City yesterday to discuss co-operation and sign agreements.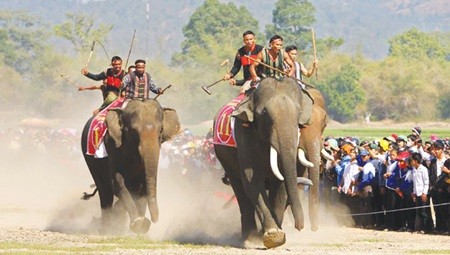 Elephant racing, one of the biggest festivals in the Central Highlands, takes place in the village of Jun in Dak Lak. Viet Nam plans to boost co-operation with four nations to develop its tourism sector. (Photo: VNA/VNS)
Minister of Culture, Sports and Tourism Hoang Tuan Anh and his counterparts and deputy ministers from Cambodia, Myanmar, Thailand, and Laos — the five nations make up AMECS — agreed unanimously to continue tourism co-operation and work to attract tourists from within and outside the region.
They agreed to co-ordinate to create trans-border tours and develop human resources, the latter in preparation for the ASEAN Mutual Recognition Agreements on the free flow of skilled labour.
Anh signed off on co-operation plans with Cambodia, Laos, and Myanmar that will act as the foundation for future tasks.
The plans will focus on tourism exchanges, facilitating transportation, regularly exchanging information about tourism policies and products, developing human resources in tourism and establishing working groups to ensure the efficiency of joint promotional activities.
Last year Cambodia, Laos, Myanmar and Viet Nam together received 19.6 million international visitors, a 11.4 per cent rise from 2013. Sixteen per cent of the visitors were from the AMECS – or Ayeyawaddy-Chao Phraya Mekong Economic Co-operation Strategy, referring to the sub-region – member countries.
Thailand, which is yet to sign any agreement with Viet Nam, welcomed almost 25 million visitors.
Viet Nam is one of the most important tourist markets for Cambodia and Laos like Cambodia is for Viet Nam's.
Myanmar stands out as an interesting new destination, achieving the most impressive growth in the region.
The foreign dignitaries at the meeting included the Lao Deputy Minister of Information, Culture, and Tourism Chareune Varinthlasak, the Myanmarese Deputy Minister of Tourism and Hotels Sai Kyaw Ohn, the Cambodian Minister of Tourism Thong Khon and the Thai Minister of Tourism and Sports Kobkarn Wattanavrangkul.
They are in the country for the three-day annual International Tourism Expo HCM City that opens today at the Saigon Exhibition and Convention Center in District 7.
US interest
On the same day, a seminar was held by the American Chamber of Commerce (AmCham) in HCM City to discuss whether the city could become a hotpot of the global MICE (Meetings Incentives Conventions Exhibitions) industry.
Herb Cochran, Executive Director of AmCham Viet Nam, said a co-operation between the state and private sector would open many opportunities for the country's tourism to develop.
He also said that in the AmCham Viet Nam community, there were quite a number of firms doing business in tourism, aviation, payment services and so on. These firms hoped to be engaged further in Viet Nam's tourism sector, particularly in MICE tourism.
Statistics from the Viet Nam Tourism General Department showed that revenue from MICE tourism is four to five times higher than that of other tourism forms.
Nguyen Duc Tri, Dean of School of Tourism – University of Economics Ho Chi Minh City, said it required a long term objective and detailed process to foster MICE tourism in the city.