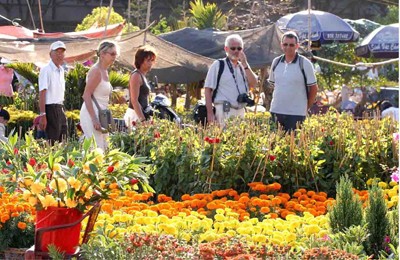 Foreign visitors at a lunar New Year festival in Vinh Long Province.
The number of foreign visitors to Vietnam in the first seven months of this year reached 2.17 million, a fall of 18.7 percent year on year, according to data from the National Administration of Tourism.
The number of visitors to the country for business dropped by 22.3 percent, for vacation by 21.4 percent, and for other reasons by 20.5 percent, while the number of visitors to visit relatives rose by 0.6 percent, it said.
There were only 149,000 foreign visitors to Vietnam in July, 12.9 percent lower than the same period last year.
A spokesman for NAT said the main reason for the decline of visitors was the global financial crisis, adding that the global swine flu outbreak has also driven visitors away.