Standing Deputy Prime Minister Nguyen Sinh Hung has given the Viet Nam National Administration of Tourism (VNAT) official permission to advertise the country's most popular tourist attractions on CNN television later this year.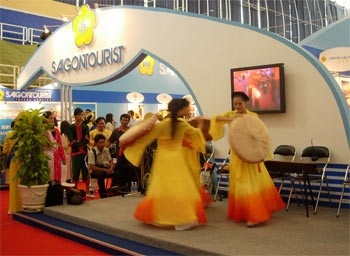 Saigontourist, one of Viet Nam's leading travel firms, publicizes its brand name to customers at the Int'l Travel Expo 06'. (Photo:KK)
The VNAT and the Ministry of Information and Culture must now come up with a detailed plan for the advertising program and submit it to the government. The Ministry of Finance has already been charged with funding the project.
Pham Huu Minh, chief of the VNAT's marketing department, says it will cost US$400,000 for three months of daily 30-second commercials in peak viewing hours.
CNN will contribute between US$40,000 and US$50,000 to make a video clip promoting Viet Nam. The commercial will appear twice a day in prime time for 13 consecutive weeks.
Related article:
VNAT to Advertise on CNN Television