The Vietnam National Administration of Tourism (VNAT) held a year-end conference in Hanoi on January 28 to evaluate the "Vietnam Impression" promotion program and discuss plans for 2010.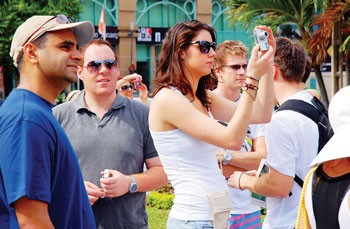 Foreign tourists visit Ho Chi Minh City.
More than 500 promotions were launched nationwide to stimulate tourism last year with support of local Culture, Sports and Tourism departments across the country.
The "Vietnam Impression" program is part of a larger project to enhance and promote Vietnamese tourism and speed up development plans in 2010.
Last year, the country saw 25 million domestic travelers and earned a total turnover of around VND70, 000 billion (US$3.7 billion), an increase of 9 percent over last year.
Minister of Culture, Sports and Tourism Hoang Tuan Anh said that the Vietnam Impression program will be improved this year.
More tourism promotions featuring unique and diversified activities will also launch soon, added head of the Travel Department of the Vietnam Administration of Tourism, Vu The Binh.
Deputy Director General of Vietnam Airlines Trinh Hong Quang said that Vietnamese tourism companies should capitalize on the upcoming 1,000th Thang Long-Hanoi grand ceremony and promote the capital as a special destination this year.