The five-star The Nam Hai resort in central Viet Nam has been voted Asia's Best Resort in 2007 by the US luxury lifestyle magazine Cigar Aficionado.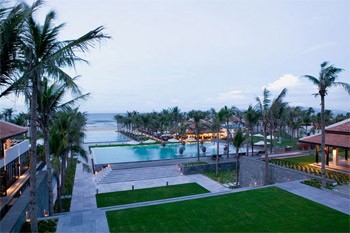 The Nam Hai Resort
"As the world's top hotel brands fall over one another to open grand palaces throughout Asia, especially in China's Macau and Japan, it was sleepy Viet Nam that stood out," according to an article on the magazine.

The judges' panel included top travel writers, hoteliers, hotel executives and travel agents. Cigar Aficionado is a bi-monthly with more than 250,000 subscribers and readership of more than 1.5 million.

The Nam Hai resort covers an area of 35 hectares on the Ha My beach between Da Nang and the UNESCO-listed Hoi An ancient town, and affords guests 100 villas, 40 with private pools, a kilometer of private beach, four tennis courts, three public pools and two restaurants.

Opened in December 2006, the resort is run by the General Hotel Management (GHM). It's spa includes eight floating bungalows, Balanese staff and is hailed as one of the world's leading spas by travel magazine Conde Nast Traveller.