Representatives from Ho Chi Minh City's showbiz, business circles, religious groups and the young gathered together Sunday to call on the public to vote online for Viet Nam's Ha Long Bay, Phong Nha-Ke Bang Cavern and Fansipan Mountain Peak as the world's new natural wonders.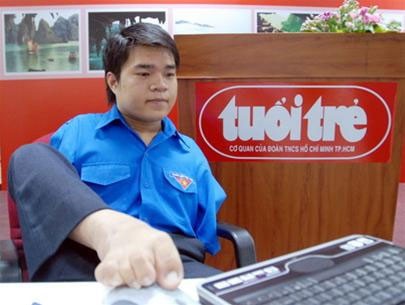 Though disabled, Nguyen Xuan Nghia from District 8 in Ho Chi Minh City clicks to vote for Viet Nam's three beauty spots with his toe on Jan 20 at Tuoi Tre headquarters.
Converging on Tuoi Tre Newspaper headquarters in Phu Nhuan district, all agreed that every click to vote for the three Vietnamese famous landscapes is a demonstration of love and pride for the Southeast Asian country.
"Voting for Viet Nam's Ha Long Bay is a golden chance to promote the image of Viet Nam to the world", said Deputy Minister of Culture, Sports and Tourism Huynh Vinh Ai.
The voting campaign launched by the NewOpenWorld Foundation has entered its second phase with 168 natural spots from 76 countries nominated.
The US tops the list of countries with the most nominees (17) while South America is the region with the most nominated spots (51).
As of January 14, Viet Nam's Ha Long Bay, Phong Nha-Ke Bang Cavern and Mount Fansipan have been among the top 21, ranked 7th, 8th and 12th respectively.
Voting will last until December 31 on www.new7wonders.com. The list of the 21 most favorite wonders will be announced in January 2009 when the campaign will enter the next round to select the world's seven new wonders before the result is officially announced in the summer of 2010.
Previously, a massive campaign to garner more votes for Ha Long Bay as one of the world's new seven natural wonders was officially launched nationwide on December 23 last year in Ha Noi.
Phong Nha - Ke Bang is a national park and UNESCO World Heritage Site in central Quang Binh province in north-central Viet Nam. It protects one of the world's two largest karst regions with several hundred caves and grottoes.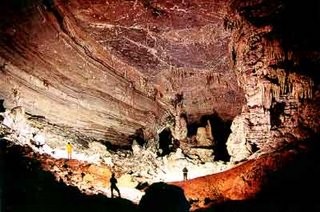 Phong Nha cave.
Its karst formation is the oldest major karst area in Asia, being formed as earlier as the Palaeozoic (some 400 million years ago).
Subject to massive tectonic changes, the park's karst topography is extremely complex and contains spectacular formations including 65 km of caves and underground rivers.
Meanwhile, at 3,143 meters, Mt. Fansipan is Viet Nam's highest mountain. The peak forms part of the Hoang Lien Son Mountain Range, which is an extension of the Ailao Shan Mountains of China, the southeastern reach of the Himalayas.