Cruise ship Royal Caribbean Cruise's Voyager of the Seas  carrying 3, 612 passengers and over 1, 200 crew members docked at Chan May Port in the central province of Thua Thien- Hue yesterday.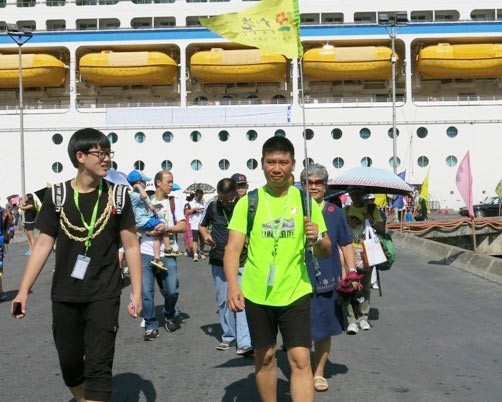 Voyager of the Seas ship arrives in Chan May Port. (Photo:SGGP)
Voyager of the Seas, which is the world's third-largest cruise ship with all modern conveniences of a 5 star luxury hotel , is the largest cruise ship coming to Chan May Port.
During the journey, travelers had a chance to visit famous relics and landscapes in Da Nang, Hoi An and Hue.
Moreover, Royal Caribbean Cruise created best conditions for 13 editors and reporters from Australia and Hong Kong's  magazines to survey and write related news to tourism destinations of Thua Thien- Hue province. 
Earlier, Royal Caribbean Cruise  invested US$ 4 million to upgrade Chan May Port which is a major port in central Vietnam.
The event is considered as a favorable chance for Thua Thien-Hue province's tourism industry not only to boost images of the Vietnamese people, places and culture  but also strengthen tourism cooperation between the province and Royal Caribbean Cruise, said Deputy Chairman of Thua Thien- Hue People's Committee Nguyen Dung.

Voyager of the Seas cruise ship was scheduled to leave from Chan May Port to Hong Kong at 6pm on August 9.