Vung Ro, considered the most appealing bay area in the coastal central region of Vietnam, has seen both ups and downs over the decades.
It once served as the place where southern liberation troops received secret supply shipments via the Ho Chi Minh Trail by Sea in 1964 and 1965, and it is now becoming a key area for economic development of Phu Yen Province and south central provinces.
Short-lived lobster boom
Vung Ro Hamlet was officially established in 1986. During the 1990s, people in the 200-household area were still very poor and led difficult lives.
But things turned around quickly with the initiation of lobster breeding in the area. The Vung Ro environment provided good conditions for the growth of the profitable crustacean industry, and people's lives began to improve.
During this time, around a third of Vung Ro residents invested in lobster breeding.
However, lobster breeders began to struggle, sending many people deep in debt. The cause for the collapse of the industry was blamed on environmental degradation due to land exploitation and inappropriate planning.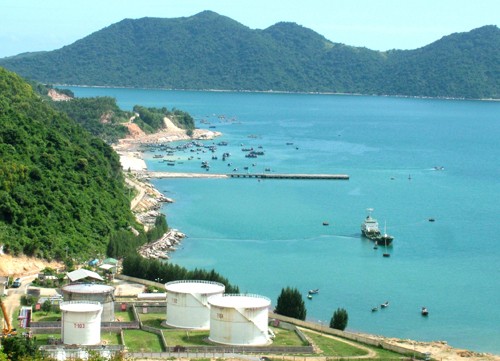 Vung Ro Bay
A positive horizon
Vung Ro Bay, surrounded by tall mountains to the north, east and west, spans 1,640 hectares. The bay can also accommodate ships with a capacity over 5,000 tons.
Despite the failure of the once-promising lobster industry, the area has since seen a surge in activity with the completion of Phuoc Tan-Bai Nga Street that connects Hoa Hiep Industrial Zone and Tuy Hoa City. A route from Hanoi to Tuy Hoa has also opened to traffic.
Hung Vuong Bridge over the lower section of the Da Rang River, which will join to the inner area of Tuy Hoa City, is scheduled for completion soon.
A coastal beltway has also been installed connecting the inner city area of Tuy Hoa with many attractions including Long Thuy, O Loan Lagoon, Da Dia Reef, and Binh Dinh Province's Quy Nhon City.
Recently, the Government approved a project to build the South Phu Yen Economic Zone, of which Vung Ro is one of the key centers.
With an area of 20,730 hectares, this economic zone will serve as a gateway to the sea for Highland provinces, southern Laos, and northeast Cambodia and Thailand. It is expected to be the backbone of development for the south coastal central region.