The world economic crisis and high domestic inflation is hitting Vietnam's tourism industry, which is not expected to meet a target of welcoming five million international tourists this year.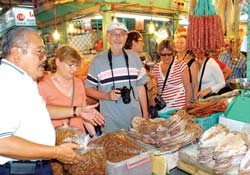 Foreign visitors visit a market in the Mekong Delta.
Culture, Sport and Tourism Minister Hoang Tuan Anh said this year was set to be the first year since 2003, when inbound tourism plummeted as a result of the Severe Acute Respiratory Syndrome outbreak, that Vietnam's tourism sector would not meet its annual target.
National Administration of Tourism figures show last year Vietnam received 4.5 million international visitors. So far this year, 3.7 million international visitors have arrived in Vietnam, with around 339,600 international visitors arriving in November.
While tourist numbers in the first eight months of the year were up on last year, since September the number of international tourists has been dropping off.
The total number of foreign arrivals in January through August was more than three million, up 6.9% year-on-year. In the month of August, the number of foreign visitors was 4.8% lower than August 2007.
Ho Chi Minh City is also feeling the pinch. The number of international tourists to the city increased 3.7 percent this year from last year. In 2007, tourist numbers increased 14 percent.
From January to November, Ho Chi Minh City welcomed 2.6 million international arrivals. The city is expected to receive 2.8 million international arrivals for the year, short of its target of 3 million international arrivals.
Over the last two months, HCMC tour companies have experienced a 20-30 percent decline in business compared with the same period last year.
While the economies of the US and many European and Asian countries are struggling, some countries in northern European have not been so badly affected by the global economic woes.
"Due to the economic slowdown, many travelers from key source markets for Vietnam have changed their mind, taking domestic trips rather than traveling overseas," Anh said.
Saigontourist said the number of inbound visitors also decreased by 20 to 25 percent. Saigontourist said the number of customers now booking trips to Phu Quoc and Phan Thiet and traveling Cambodia overland was stable.
Vietnam and Cambodia are expected to sign a document allowing Vietnamese citizens to travel to Cambodia without needing a visa.
Local tour companies say this will help their businesses as they will be able to run more promotions for tours to Cambodia.

Price cuts to attract customers
Many tour companies are already offering discounts and other promotions to attract customers.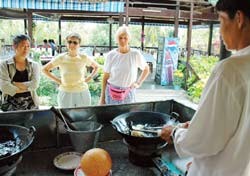 Visitors enjoyed local speciallities.
Cholontourist Company said they reduced some tours by US$50- $60 and the company was considering reducing its profit margins in order to keep regular customers.
Some smaller tour companies are in even an even more grave situation. They said they used to take an average of 20 to 30 groups each month but now numbers had dwindled to just two or three groups a month.
December to February is usually the peak tourist season for international visitors to visit the Asia-Pacific region. However, the signs are not looking good for the peak season this year.
Some industry insiders say the situation in Bangkok, where anti-government protestors seized control of the city's two main airports for more than a week, could make Vietnam a more attractive destination for international tourists.
But, on the other hand, Vietnam is considered a slightly more expensive travel destination than Thailand.
And, while Vietnam Airlines and budget carrier Jetstar Pacific have been offering cheap domestic tickets in recent months, international fares to Vietnam have not been discounted.
"We are lacking strong advertising programs and quick marketing campaigns to help the tourism sector overcome the current difficulties," Culture, Sport and Tourism Minister Anh said.
He said that, for the rest of this year, the sector would carry out more promotion programs overseas and on international media networks to try to lure more visitors to Vietnam.
The national tourism body has just finished a promotional trip to Spain, and was preparing similar campaigns in Japan and Russia this month and in Australia and Taiwan soon, Anh said.
"Roadshows in the Russian cities of Moscow and St. Petersburg on September 16 and 18 were a great opportunity to increase the number of Russian visitors to Vietnam from nearly 70,000 this year to 100,000 next year," he said. "It's a good market because the travel purchasing power of Russian travelers is still high."
Earlier this year, the country's tourism authorities launched a VND16 billion advertising campaign on international television networks, including CNN and Discovery Channel. A similar campaign will be broadcast on Japanese and South Korean television networks later this year.
According to the Department of Culture and Information, the price of high-class hotel accommodation increased 41 percent over the first nine months of the year, compared with the same period last year.
Now, many hotels are "sharing the difficulties" with tour companies and offering 5-20 percent reductions on room rates.