This spring, Yen Tu Mountain in northern coastal Quang Ninh Province attracts 76,000 pilgrims, increasing 1.5 times from 2005.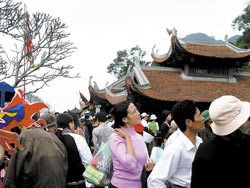 People flock to Yen Tu Mountain
Yen Tu Mountain is about 50 km from Ha Long City. The route of pilgrimage from the foot of the mountain to the pagoda at the highest altitude is nearly 30 kilometers.
Although people flock to Yen Tu Spring Festival, the mountain was still clean and safe during Tet holidays. Wonderful scenery, together with ancient, beautiful pagodas and hermitages of the 10th century attracted visitors from all parts of the country to Yen Tu.
According to the People's Committee of Uong Bi Town, Quang Ninh Province, the expected revenue of Yen Tu this year is VND35 trillion. In 2005, Yen Tu received 390 thousand visitors and the total revenue reached around VND 20 trillion.