Vietnam and Latin American countries have enjoyed a friendly relationship and traditional solidarity which sprang from the similarities in their struggles for national independence, said Foreign Minister Pham Binh Minh in his recent article.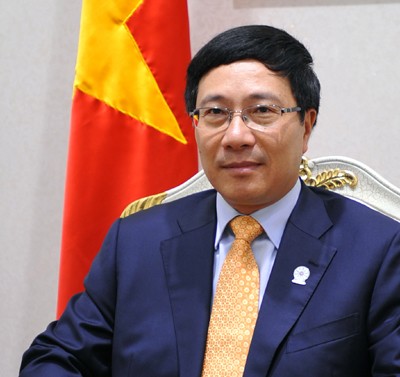 Foreign Minister Pham Binh Minh
It is the thought of independence and freedom which cements the bilateral ties since the time of of José Marti and Ho Chi Minh, according to the article written to mark the first Forum on Vietnam-Latin America Trade and Investment scheduled from July 5-6.
Vietnamese people still bear in their mind boisterous movements organized in South American nations to voice support for Vietnam's struggle for national liberation and unification.
The visits to Vietnam by President of Chile's Senate Salvador Allende in 1969 and by Cuban President Fidel Castro in 1973 will always be the symbol of the friendship and valuable support that Latin American people granted to Vietnam. The Southeast Asian country established diplomatic relations with Cuba in 1960, Chile in 1971 and Argentina in 1973.
Following the victory in 1975, political-diplomatic relations between Vietnam and Latin American countries have been expanded. From 1975-1980, Vietnam continued setting up diplomatic ties with ten countries in the region.
Vietnam stood side by side its friends in Latin America to fight for independence, democracy and social progress. Latin American countries strongly advocated Vietnam to join the United Nations in 1977, provided assistance to overcome the consequences of the war, expanded diplomatic relations, and protested sanction measures against Vietnam.
Since Vietnam launched the renewal process in 1986, the bilateral relationship entered a new chapter of stronger and more comprehensive development. Vietnam set up diplomatic relations with other 14 countries in the region.
Thanks to regular exchange of high-ranking delegations, dozens of agreements and deals have been signed, creating a favorable legal framework for the development of the bilateral ties. Coordination and mutual support at the international forums have been increasingly intensified, people-to-people exchanges have also been developing unceasingly.
As of 2012, Vietnam has formulated diplomatic relations with 27 countries, inter-governmental cooperation committees with five countries, political consultation mechanism with 15 nations in the region. Over the past ten years, nine visits to Latin America were made by Vietnamese high-ranking leaders and ten visits made by the region's top leaders to Vietnam. Currently, Vietnam has seven Embassies in the region and eight Latin American countries opened their Embassies in Vietnam.
The fine political relations and traditional friendship have formed firm foundation for the expansion of the multifaceted cooperation between the two sides, particularly in the fields of investment and trade.
The two-way trade turnover increased over 30% annually, from US$300 million in 2000 to US$5.1 billion in 2011. Vietnam's committed investment capital in Latin America amounted to some US$7 billion, focusing on energy and telecommunication areas.
Despite the quick and impressive development pace, the economic-trade-investment linkages still remain modest. Vietnam's import-export revenue to Latin America only accounts for small proportion in each of these countries' trade value. Latin America's investment in Vietnam is far to meet potential.
Moreover, few activities were held to introduce the two sides' business environment and investment opportunities.
Striving for new heights
The bilateral cooperation between Vietnam and Latin American countries have not been fully tapped, said Foreign Minister Minh. He, however, expressed his belief in the promising future of the Vietnam-Latin America relations because of the three following reasons.
Firstly, the relations have been built on the basis of solidarity, traditional friendship and strong political determination. Vietnamese Government always attaches importance to consolidating and enhancing cooperation with countries in the region, seeing them as potential partners. Latin American countries are also interested in Asia.
Secondly, the region's investors can pour investment in such fields like oil and minerals exploitation, traditional and renewable energy development, infrastructure development, pharmacy, agro-produce processing while Vietnamese investors should further promote advantages in rice production, aquaculture cultivation, electronics production, agricultural machines, telecommunications, ship-building in Latin America.
Vietnam and Latin America could also set up partnership in agriculture, energy, transport, logistics, telecommunications and services.
Thirdly, the future's global political and economic environment would continue creating favorable conditions for the two sides to beef up ties. East Asia and Latin American would continue maintaining peace, stability and high growth. Political and economic integration trend in both regions would also continue developing and trans-regional cooperation trend through APEC, FEALAC, TPP, ASEAN-MERCOSUR and others would create more opportunities for the two regions to cement cooperation.
In that context, the Forum on Vietnam-Latin America Trade and Investment would help Vietnamese and Latin American investors to directly discuss measures to accelerate trade and investment activities. This proves the Vietnamese Government's effort to heighten the relationship to new levels, Foreign Minister Minh affirmed.
By Huong Giang (VGP)