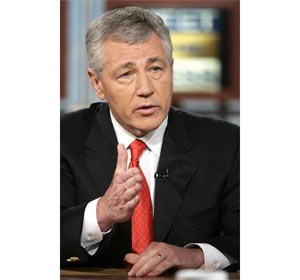 US senior Senator Mr. Chuck Hagel
The US Congress strongly supports the approval of Permanent Normal Trade Relations (PNTR) for Viet Nam despite current delays in the process, US senior Senator Mr. Chuck Hagel said a press conference in Ho Chi Minh City Thursday.
"I myself strongly support the passage of PNTR status for Viet Nam. Unfortunately, the vote did not take place last week as planned, but the US Congress will hold another session on November 13 to discuss the issue," Mr. Hagel said.
The Senator also hoped that the legislation to grant PNTR status to Viet Nam, which would clear the way for the country's entry into the World Trade Organization, would be approved before US President George W. Bush comes to Viet Nam for the Asia Pacific Economic Cooperation (APEC) summit in November.
Senator Chuck Hagel, together with Senators John Kerry and John McCain, is taking the initiative in supporting the normalization of relations between Viet Nam and the US.
"I think we are developing much more than just the cooperative exchanges between the two countries. These exchange programs will bring us closer to each other, enabling us to gain more common benefits than expected," the Senator confirmed.

Regarding the US business community's view on Viet Nam's investment environment, Mr. Hagel said Viet Nam is unanimously considered to have a great potential in attracting foreign investment, despite some current unclearness in the country's banking system and intellectual copyrights.
"However, these issues will be addressed soon when Viet Nam joins the WTO, and I believed that the Vietnamese stock market would develop remarkably together with the foreign investment growth rate," he added.
Mr. Chuck Hagel is currently on a two-day visit to Viet Nam, from October 5 -6, to discuss US-Vietnam relations with some Vietnamese officials, among whom are National Assembly Chairman Nguyen Phu Trong, Deputy Prime Minister cum Foreign Minister Pham Gia Khiem, Minister of Defence Phung Quang Thanh and Minister of Finance Vu Van Ninh.
Chuck Hagel, Nebraska's senior U.S. Senator, is serving his second term in the United States Senate. His duties include membership on four Senate committees: Foreign Relations; Banking, Housing and Urban Affairs; Intelligence and Rules.
He is also chairman of the Senate Foreign Relations International Economic Policy, Export and Trade Promotion Subcommittee and the Senate Banking Securities and Investment Subcommittee, and Chairman of the Congressional-Executive Commission on China.

In 1968, Mr. Hagel served in Viet Nam with his brother Tom, side by side as infantry squad leaders with the U.S. Army's 9th Infantry Division and he had earned many military decorations and honors, including two Purple Hearts.

Besides, he also received many international awards, among which were the Omaha World-Herald's 2005 - "Midlander of the Year" Award, the University of Nebraska at Omaha's 2006 Alumni Award for Excellence in Public Service, and the 2006 Don Wagner Leadership Award.
A fourth generation Nebraskan, Mr. Chuck Hagel was born in North Platte, Nebraska on October 4, 1946. He graduated from St. Bonaventure High School, Columbus, Nebraska, the Brown Institute for Radio and Television, Minneapolis, Minnesota, and the University of Nebraska at Omaha.
Senator Chuck Hagel is considered a potential candidate for the presidential position of the Republican Party in the 2008 election.