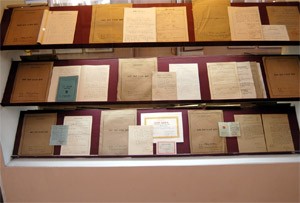 Files on soldiers who fought on Battlefield B are on show at the HCM Museum.
Letters, photographs and other personal belongings of northern soldiers half a century ago are on display at the "Files and Souvenirs of Soldiers Fighting on Battlefield B" exhibition that opened yesterday at the Ho Chi Minh Museum in Ha Noi.
The thousands of exhibits also include medals, certificates, money and documents that, like all the objects on show, were given by soldiers to the Unified Committee for safe-keeping before they traveled south to the military zone known as Battlefield B.
There are also nearly 300 files on soldiers who fought on Battlefield B, including that of the revolutionary martyr Dang Thuy Tram.
The month-long exhibition provides a snapshot of the first days after the French succumbed to the Viet Minh forces at the Battle of Dien Bien Phu in 1954, government policy on the war and people's expectations in the latter half of the 1950s,
A computer has been set up so that visitors can find information about the war and those times in general.
The exhibition has been organized by National Archives Center 3 in cooperation with the Ho Chi Minh Museum, the Vietnam Military History Museum and the Ho Chi Minh City Museum.