Without Manchester United half-back Nemanja Vidic, Serbia and Montenegro will head into the clash with the strongest team of Group C Argentina in Gelsenkirchen on June 16. Fans doubt if the players from Balkan could stand firm on their feet against the South American giant.
Having poor performed in the previous match against Netherlands, Serbia and Montenegro experienced striker Savo Milosevic will possibly be replaced by towering Nikola Zigic.
If Milosevic can play in the match, he will win his 100th cap and becomes the first Serbia and Montenegro player to reach this milestone. So far he has won 71 caps for Yugoslavia and 28 caps for Serbia and Montenegro.
Half-back paring Dejan Stankovic and Predrag Djordjevic are still set to control the middle field while Goran Gavrancic will play in the center and Ognjen Koroman comes in on the left of midfield.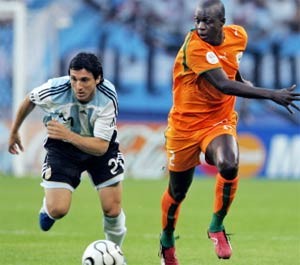 Argentinian defender Nicolas Burdisso (L) vies with Ivorian defender Arthur Boka during the game Argentina vs. Ivory Coast.
Vidic has been ruled out for the rest of the tournament because of damaged knee ligaments. However, striker Albert Nadj informed that his team is still ready for the coming game, saying that Argentina could be defeated even when it is a big opponent. "With the great support of our enthusiastic fans, our mission is possible and we will show them our best performance," he added.
Argentina makes one change from the side which beat Ivory Coast, with Luis Gonzalez coming in on the left of midfield in place of Esteban Cambiasso. Thus, Coach Jose Pekerman made his decision to boost his defenders' speed against Serbia and Montenegro.
Striker paring Javier Saviola and Hernan Crespo got much belief from Jose Pekerman for their two goals in the match against Ivory Coast. Currently, there is no news of Lionel Messi after he injured his left foot in a training session.
Colors for the game
Argentina: blue shirts, white shorts and blue socks.
Serbia and Montenegro: white shirts, white shorts and white socks.
Probable Squad
ARGENTINA

SERBIA AND MONTENEGRO

1. ABBONDANZIERI Roberto 

21. BURDISSO Nicolas

2. AYALA Roberto

6. HEINZE Gabriel

3. SORIN Juan

22. GONZALEZ Luis

8. MASCHERANO Javier

18. RODRIGUEZ Maxi

10. RIQUELME Juan

7. SAVIOLA Javier

9. CRESPO Hernan

1. JEVRIC Dragoslav

4. DULJAJ Igor

6. GAVRANCIC Goran

20. KRSTAJIC Mladen

3. DRAGUTINOVIC Ivica

17. NADJ Albert

10. STANKOVIC Dejan

11. DJORDJEVIC Predrag

7. KOROMAN Ognjen

8. KEZMAN Mateja

19. ZIGIC Nikola