Trinidad & Tobago will face Sweden on June 10 for their first game in group B of the 2006 FIFA World Cup. As this will be Trinidad and Tobago (T&T)'s first finals, the two sides have never met on the world's top stage.
Swedish experienced defender Olof Mellberg said Group B will witness fierce competition among Sweden, England and Paraguay, but the T&T. This sayings is an obvious evidence of Sweden's expectation for a victory over T&T.
Led by three world-class players including Henrik Larsson, Zlatan Ibrahimovic and Freddie Ljungberg, Sweden has more chance to defeat T&T.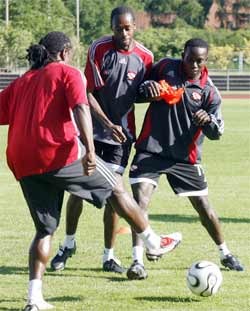 Trinidad and Tobago's forward Dwight Yorke (R) fights for the ball with Dennis Lawrence (C) plays with a ball during a training session
Coach Leo Beenhakker of T&T has great faith in his only star Dright Yorke. However, it is considered that the former striker of Manchester United has lost his golden time and T&T will appear in the World Cup 2006 as a guest rather than a redoubtable opponent.
Sweden are taking part in the World Cup for the 11th time. Their best performance dates back to 1958 when they finished runners-up to Brazil. In the finals four years ago, Sweden were knocked out by a Senegalese golden goal in the second round (1-2).
Sweden have failed to win any of their last six opening World Cup clashes. Their most recent victory in such a fixture dates back to 1958 when they defeated Mexico 3-0.
Colors for the game
Trinidad and Tobago: red shirt, black shorts, red socks
Sweden: yellow shirt, yellow shorts, yellow socks
Probable Squad
TRINIDAD & TOBAGO

SWEDEN

1. HISLOP Shaka

6. LAWRENCE Dennis

4. ANDREWS Marvin

3. JOHN Avery

8. GRAY Cyd

7. BIRCHALL Christopher

9. WHITLEY Aurtis

11. EDWARDS Carlos

15. JONES Kenwyne

14. JOHN Stern

19. YORKE Dwight

12. ALVBAGE John

3. MELLBERG Olof

4. LUCIC Teddy

5. EDMAN Erik

14. STENMAN Fredrik

6. LINDEROTH Tobias

9. LJUNGBERG Freddie

21. WILHELMSSON Christian

19. ANDERSSON Daniel

10. IBRAHIMOVIC Zlatan
11. LARSSON Henrik