Both Togo and Switzerland have showed their inconsiderable performance on their FIFA World Cup debut. On June 19, the two teams will meet each other in Dortmund and expectations are skyrocketing in Switzerland.
Switzerland opened their campaign by holding France to a humdrum goalless draw, which failed to maintain their reputations as well-organized outfits.
The Togolese appeared to be immature when it has unluckily fallen to a narrow 2-1 opening defeat against Korea Republic.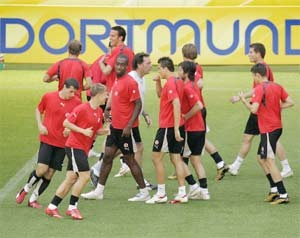 Swiss players warm up in a practice session at the Westfalen-Stadion in Dortmund June 18 on the eve of their game against Togo.
From what they have performed, football fans can easily recognized that they will have to exert themselves more if they want to own a ticket for later rounds.
Switzerland coach Koebi Kuhn has dismissed talk his team will rediscover their goals-coring touch with an easy, morale-boosting victory over Togo.
Kuhn said: "Anyone who thinks Togo will be cannon fodder is completely wrong. They are a strong team who qualified for the World Cup in a strong group, although I think we will find more space to attack against them."
As for Togo, one of their advantages is that coach Otto Pfister can use his inside knowledge to plot Switzerland's downfall and throw Togo a World Cup lifeline.
The 68-year-old Pfister, who has a Swiss wife and who lives and has coached in Switzerland, admitted: "For Togo, this is the last chance."
Colors for the game
Togo: green shirt, green shorts, white socks
Switzerland: red shirts, red shorts, white socks
Probable Squad
TOGO

SWITZERLAND

16. AGASSA Kossi 

2. NIBOMBE Dare

23. TOURE Assimiou

5. TCHANGAI Massamasso

8. AGBOH Kuami

9. DOSSEVI Thomas

10. MAMAM Cherif Toure

15. ROMAO Alaixys

17. MOHAMED Kader

13. FORSON Richmond

4. ADEBAYOR Emmanuel

1. ZUBERBUEHLER Pascal

3. MAGNIN Ludovic

4. SENDEROS Philippe

20. MUELLER Patrick

23. DEGEN Philipp

8. WICKY Raphael

6. VOGEL Johann

7. CABANAS Ricardo

16. BARNETTA Tranquillo

9. FREI Alexander
11. STRELLER Marco