Germany and Costa Rica will meet in the opening match of World Cup 2006 in Munich on June 9. This will be the first match in Group A. Poland and Ecuador will face each other later that evening in Gelsenkirchen in the second group match.
Germany's Coach, Jurgen Klinsmann, and his players are at a historical point to prove to the German people that they have well prepared for the tournament.
The opening match will be an unforgettable memory of Germany striker Miroslav Klose when he will celebrate the 28th birthday in front of 65,000 Munich crowd and hundreds of millions of TV viewers.
Fans hope that he will strike goals as luckily as the time when he scored a hattrick in the game against Arabia Saudi four years ago and then led the German team to final match.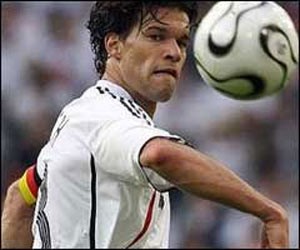 German Captain Michael Ballack
Mr. Klinsmann said in a recent interview, "A good lead-in will be our decisive element of success, especially when we are playing in our own soil and in front of frenetic hometeam fans. We will strive for our supporters' belief and players' self-confidence." 
Recalling the former champion France's loss in its opening match in World Cup 2002, the German people are anxiously praying for their national team's victory over Costa Rica. 
"We've been preparing intensely right to the end, and now this game against Costa Rica will tell us how good we really are," said Klinsmann. However, Germany will have to manage without Captain Michael Ballack, who is struggling to recover from a niggling calf injury. Werder Bremen's Tim Borowski now seems likely to be a replacement for the influential skipper.
As for Costa Rica, former Derby striker Paulo Wanchope, who has scored 43 goals in his 69 games, is set to lead the team's attack. Costa Rica is playing at their third World Cup, having also appeared in 1990 and 2002.
Costa Rica team is likely to pack their midfield in a 3-5-2 formation and wait for their chances to counter-attack.
Colors for the game
Germany: white shirt, black shorts, white socks
Costa Rica: red shirt, blue shorts, red socks
Referee: Horacio Elizondo (Argentina)
Probable Squad
 GER

CRC

1. LEHMANN Jens
3. FRIEDRICH Arne
21. METZELDER Christoph
17. MERTESACKER Per
16. LAHM Philip
18. BOROWSKI Tim or 13. BALLACK Michael
19. SCHNEIDER Bernd
8. FRINGS Torsten
7. SCHWEINSTEIGER Bastian
20. PODOLSKI Lukas
11. KLOSE Miroslav

18. PORRAS F. Jose
4. UMANA Michael
3. MARIN Luis
12. GONZALEZ Leonardo
20. SEQUEIRA Douglas
5. MARTINEZ Gilberto
8. SOLIS Mauricio
10. CENTENO Walter
6. FONSECA Danny
11. GOMEZ Ronald
9. WANCHOPE Paulo